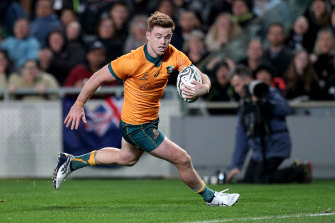 "I think a lot of this now for me is proving to guys that, if you're overseas, that's fine, but you can always come home. And there's always a place for Australians back in Australia because that's where we want them playing."
Between the Waratahs, Saints, Counties Manakau, Rebels and NEC, Kellaway played 80 games before making his Test debut.
It's an experience profile in stark contrast to that of many recent Wallabies debutants who have one or two Super Rugby seasons under their belt before being thrust into the Test arena.
"There are some great young guys coming through Super Rugby, but the reality of it is that without some of that experience coming back we're probably going to struggle," he said.
"For me, it's about hopefully showing a couple of guys that there is still more for them to do when they get back home."
Loading
Apart from setting an example for dozens of other Australians siding with a lucrative wage in Europe and Japan over national honours, Kellaway also never wavered in his belief that playing for the Wallabies was a realistic goal.
He didn't miss when asked if he considered staying abroad for the remainder of his career.
"That's a funny one. I don't think that's the path anyone wants to take, right? If you're Australian and you grow up playing rugby in Australia, you want to be a Wallaby. Anyone who says that they don't, I don't want to call them a liar, but they're not far off," Kellaway said.
"Circumstances affect things differently. Some guys go and probably are never going to be Wallaby, and they make a great career for themselves overseas and make a lot of cash and have a great time. I'm really happy for some of my friends who are doing that. It's awesome. I'm so happy for them.
"For me, in the back of my head I always thought in my own, strange, twisted way that I was good enough to be a Wallaby. Coming home was as much about proving that to myself as it was to anybody else."
Source link