Mr Fuller responded that NSW would be in a "disastrous position" without police enforcement of health orders.
Loading
"I believe if it wasn't for the policing of the virus with the Delta variants, it would probably be at 10,000 cases. I think the health system would be entirely overwhelmed," he said.
"Look at the United Kingdom, with a very similar policing environment. They took a very different attitude … 130,000 dead, Mr Shoebridge. How about that statistic? 130,000 people dead."
Mr Fuller said the decision to toughen enforcement was not necessarily linked to advice from NSW Health, but the ministry supported the police operation.
"I gave an undertaking to assist Health in two ways. One was assisting with contact tracing, the second one was treating the virus like a criminal, putting police in the areas of concern … and taking strong action to try and reduce the spread of the most challenging Delta variants," Mr Fuller said.
He said it was "nonsensical" to suggest the virus could be arrested out of existence but told the hearing that traditional methods of law enforcement and investigation could assist Health in curbing infections in the community.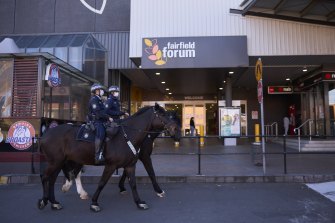 Over the past six weeks, police have issued around 18,000 fines, Mr Fuller told opposition police spokesman Walt Secord.
Between March 2020 and April 2021, police issued around 2900 fines.
He said the direction for officers to put aside community policing was a "decision of mine in terms of language".
Community policing involves a greater emphasis on police engagement and partnerships with the community to address crime, rather than conventional enforcement of laws.
Stay across the most crucial developments related to the pandemic with the Coronavirus Update. Sign up to receive the weekly newsletter.
Source link