Prisons are renewing their vaccination push and are hopeful that 7000 Pfizer doses becoming available will help after hesitancy around AstraZeneca discouraged some inmates.
Of almost 13,000 prisoners, 112 were confirmed COVID-19 cases as of Wednesday morning, Mr Coutts-Trotter said. They are almost all at Parklea and the Metropolitan Remand and Reception Centre at the Silverwater prison complex. Many of them contracted COVID-19 in the community and were tested upon arriving in custody.
Corrective Services NSW identified, isolated and tested 198 inmates who were moved to other facilities from Parklea over the past two weeks. Nearly all their test results have come back, with no positive cases.
The government is pushing back against calls for the release of select inmates to reduce transmission risk in prisons, calling it a "last resort".
Under emergency powers introduced last year, the Commissioner of Corrective Services can release some prisoners early, subject to strict conditions, if their health is at risk, they are in the last 12 months of their non-parole period, and have not committed serious or violent offences.
The acting Commissioner, Kevin Corcoran, told the Herald on Tuesday he estimated around 200 could be released, but he did not believe it would make a significant difference and his plan was to eliminate the outbreak without using the powers.
Loading
Mr Coutts-Trotter said NSW prisons were not overcrowded and authorities were a "long way" from deciding to release any inmates, although it was a possibility that had to be prepared for.
Calling for the release of select offenders, Greens MLC David Shoebridge said there were particularly grave concerns for Indigenous people who are over-represented in custody.
"The thought of a COVID outbreak through that population is nothing short of disastrous," he said.
Keenan Mundine, co-founder of Indigenous activist group Deadly Connections, said he was extremely concerned for his recently imprisoned brother and others who are vulnerable to infection.
"We know how vulnerable our Aboriginal members are in the community and when they're in custody that's exacerbated," Mr Mundine said.
Tara Moriarty, NSW Labor's corrections spokeswoman, said she was concerned about the potential for prisoners to be released and called for transparency around "who will be released, how they will be monitored, and how will they ensure the community is kept safe".
Deputy Chief Health Officer Dr Marianne Gale said on Wednesday that "fewer people and the less overcrowding in the prison system is certainly useful in reducing the risk of transmission".
The Corrective Services COVID-19 plan requires positive cases to be transferred to a central isolation hub at Silverwater. Parklea is privately run and managing all but some of its first infected inmates, who were sent to the Silverwater hub.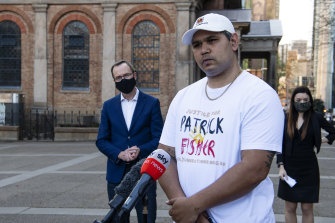 Inmates are tested when they arrive in custody and are managed in quarantine for 14 days before they are cleared to move into the general prison population. Positive cases or people with symptoms are kept isolated and receive treatment.
In addition to boosting vaccination among staff and inmates, Justice Health is rolling out rapid antigen testing across prisons and other custody facilities.
Source link