The top performers included two types of cucumber, suyu long, and costata romanesco. A type of strawberry, summer breeze rose, is also on the list. They were found to be ornamental and edible while also pest and disease resistant.
The judges also looked for plants that put on a long show of flowers. A buddleja, spring promise, is described as looking as if it was covered in snow, with a fragrance that can be detected up to 50 metres away.
The top 40 also included a new kind of osteospermum, tradewinds cinnamon, a peach colour, that doesn't self seed like the old varieties, and a kangaroo paw, kings park federation flame, with a hairy leaf that makes it more resistant to disease.
There are also three new varieties of agapanthus, which Mr Laughlin said got a "terrible rap". "They are tough as old boots, and not thirsty at all."
Unlike commercial and traditional test gardens, which look for colour and whether plants will sell, Mr Laughlin said the trial by the Botanic Garden, Australia's oldest scientific institution, gave the plants "similar attention" to what a pretty good home weekend gardener would provide.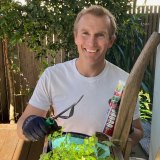 To find the winners, Mr Laughlin looked for those that required less water, less care, fertiliser and labour to maintain. Many are varieties sourced from other countries with similar climates to Sydney.
He says anyone can have a green thumb with a bit of trial and error. "And any gardener who tells you they have never killed a plant is a liar," Mr Laughlin said.
During lockdown, interest in gardening has increased.
Mr Stokes said he found gardening to be creative and therapeutic.
New research from the United Kingdom, which surveyed 6914 people, found people who gardened two to three times a week were happier and had better mental health than others.
Mr Stokes said, "I live in a coastal area, and my family has a garden which reflects that, framed by banksia and spotted gum. I'm passionate about growing food – especially herbs, which are so much cheaper to grow than buy – and anyone can do it."
The UK research, published in the journal Cities, found the results suggested (albeit from a survey dominated by gardeners) that gardens were a major source of joy, engagement and opportunity for self-reflection.
There was also a clear indication that regular gardening can reduce stress and improve well-being, found the researchers who included experts from the University of Sheffield with the University of Virginia in the United States and with experts from the Royal Horticultural Society, UK.
Mr Laughlin's top picks from the top 40 include
Top 5 water savers
Agastache 'Summer Crush', Agapanthus 'Blue Thunder', Mangave 'Pineapple Express', Anigozanthos 'Kings Park Federation Flame', Osteospermum 'Tradewinds Cinnamon'
Top 5 with the least pest and diseases
Cuphea 'Cupid' Series, Cucumis sativus 'Suyu Long', Fragaria x ananassa 'Summer Breeze Rose', Dianella 'Blue Ripple', Anigozanthos 'Landscape Gold'
Top 5 to impress your neighbours
Abelmoschus esculentus, Mangave 'Mission to Mars', Buddleja 'Spring Promise, Gaillardia 'Galya', Tagetes 'Diamond' series 
Info: https://www.rbgsyd.nsw.gov.au/plants/plant-trial-winners
Our Breaking News Alert will notify you of significant breaking news when it happens. Get it here.
Source link