"These are the sort of logistical issues that need to be nailed down over the next six weeks. I have full confidence that the government will come up with something that will allow us to open with certainty."
Mr Laundy's son Charlie, 23, who works behind the bar and does management shifts, said he and other staff were excited at the prospect of returning to work. Those who were living out of home and paying rent were eager to get a full pay packet after relying on the $750 weekly government subsidy.
"Once we get back to normality a lot of that financial stress will be alleviated," he said.
University of Sydney student Roisin Browne, 20, said she was looking forward to returning to work as a bartender at Coopers Hotel in Newtown and socialising with colleagues, but was uncertain of the potential impact of restrictions on her hours.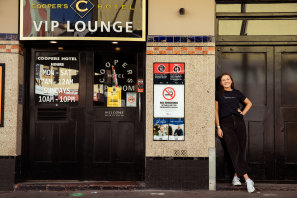 Loading
A one-person per 4 square metre rule will apply to hospitality venues indoors, and 2 square metres outdoors.
"I'm excited to get back into it but wondering what that will look like getting back into it," she said.
"Will we only have two staff on instead of four? Will my hours be reduced? … I'm just hoping that it'll be a smooth transition back to the hours I was working before."
Austin Gallagher, 20, a licensee at Hunters Hill Hotel, is also keen to start work again.
"The government fund has been pretty good to me, but it's not the same as working for your money and the freedom that gives," he said.
Business NSW Daniel Hunter said the road map to reopen hospitality venues was "what the business community has been crying out for".
Restaurant & Catering Australia (R&CA) chief executive officer Wes Lambert said while rules for restaurants and cafes will see the sector reopen next month, wedding venues would continue to be strangled by harsh restrictions.
"While R&CA warmly welcomes today's announcement that will genuinely reopen restaurants and cafes across the state with uncapped patrons both indoors and outdoors – to leave our sector on two different speeds just continues to hurt businesses who have already borne the brunt of the COVID-19 pandemic over the last 18 months", Mr Lambert said.
Ai Group's NSW head, Helen Waldron, said more clarity on "what will open and when and how businesses will be able to operate will need to be developed quickly for the benefits to be realised more widely".
The Morning Edition newsletter is our guide to the day's most important and interesting stories, analysis and insights. Sign up here.
Source link