Four contenders have emerged to take over the top job as Premier in NSW following the shock resignation of Gladys Berejiklian on Friday.
While Treasurer Dominic Perrottet and Planning Minister Rob Stokes are favourites, Minister for Jobs, Investment, Tourism and Western Sydney Stuart Ayres, and Transport Minister Andrew Constance are also in the mix to replace Berejiklian who resigned ahead of a corruption inquiry.
He wants to make a difference
At first blush, Rob Stokes, the member for Pittwater, could be a blue-eyed, blond-haired northern beaches cliché; a surfer, environmentalist and fitness fanatic who recently commando crawled to help after breaking his ankle on a run in the bush.
He is also an enthusiastic gardener and baker, renowned for his herbs and apple pies. But Stokes' deepest passion is urban planning. He embraced his planning portfolio with such enthusiasm, he made it the subject of his PhD.
Stokes strikes many of his constituents as an understated version of former premier Mike Baird; progressive, likeable and quietly Christian. His strength, they say, is his reputation for integrity and altruism, and his cerebral approach to policy.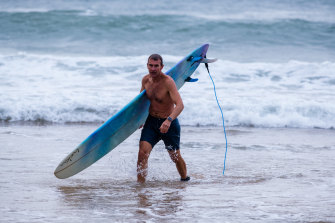 "He really strikes me as a super-decent guy who keeps his word," says Nick Carroll, a surf writer and Newport local who has known Stokes for years.
Loading
"Straight shooter, committed, smart … He wants to make a difference in public life."
That strength is also Stokes' weakness; a perception that he is too good-natured for the top job. "He's a nice guy, but not battle-hardened like [Treasurer Dominic] Perrottet," says an MP from the other side of the chamber. Perrottet and Stokes are good friends, and often jog together.
Stokes grew up in Sydney's northern suburbs and attended the Anglican Shore School, where he was thrown off the debating team alongside schoolmate Chris Taylor – who went on to become a comedian with the Chaser – due to a complaint by an opponent's father, Labor powerbroker Graham Richardson.
"I thank senator Graham Richardson for … shaping my political consciousness," he told Parliament in his inaugural speech after being elected in 2007.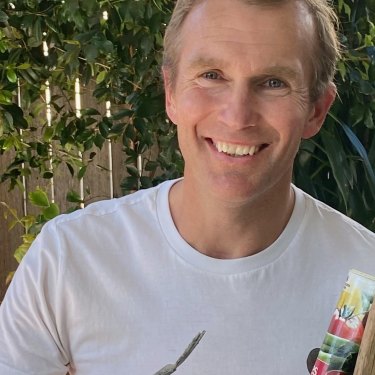 He used the same speech to decry the planning policies of the state's then-Labor government. "Our houses have bloated, our cars have bloated, our government has bloated, our children have bloated," he said. "Our challenge now is to slim down. We use too much energy, too much water.
Loading
"As our families are getting smaller, we are building bigger houses but on smaller blocks of land, so that kids are kept inside the 'media room', where they can remain part of an unconscious civilisation."
A few years after the Coalition won government, Stokes became the state's environment minister, then its planning minister. He considered running for premier when Baird, a good friend and MP for neighbouring Manly, quit. But Stokes stepped aside for Berejiklian.
Stokes was given the education portfolio in the resulting reshuffle. During his two years there, many in the sector felt he was pining for planning (although he denied this). After the 2019 election, he returned to the portfolio he loved.
Yet, some in Macquarie Street wonder whether his famous passion for planning means he lacks the breadth to be premier.
Stokes has three teenaged children with his wife Sophie who is also, says Carroll, a "really solid citizen. They're the opposite of a power couple; there's no masquerade about the Stokes. They're clean, straight shooters."
The favourite
Soon after becoming NSW Treasurer in 2017 Dominic Perrottet told the Herald "you don't get into politics to stay still, you get into politics to reform".
But economic crisis management rather than policy change has dominated Perrottet's stewardship of the state coffers.
Perrottet claimed his first budget was "the envy of the Western world" but the financial crisis triggered by COVID-19 forced him to set aside the traditional Liberal Party playbook of surpluses and low debt.
The government has spent billions to support the economy during the pandemic and the state budget has slumped deep into the red. Perrottet now frames borrowing as an opportunity for the state because global interest rates are so low.
"When I look back at the past 12 months, I was taking an approach that runs against the grain in terms of the way my natural disposition would be," he said in June.
But his hopes for reform have not been completely overshadowed – last year Perrottet unveiled plans to replace stamp duty with an annual property tax. If successful, the overhaul will be one of the biggest tax reforms in a generation.
Loading
Perrottet has enjoyed a political rocket ride since being elected to NSW Parliament as the member for Castle Hill in 2011, aged 28 (he has since shifted to the seats of Hawkesbury and then Epping). He was promoted to the frontbench just three years later when was made Minister for Finance and Services in the Baird government. When Berejiklian became Premier in January 2017, Perrottet was elected deputy leader of the Liberal Party and took on the Treasury portfolio.
But it has not all been plain sailing – Perrottet's political career was almost derailed in 2020 over revelations of financial mismanagement and the underpayment of injured workers by public insurer icare, which was set up when he was finance minister.
If he succeeds Berejiklian, Perrottet, who turned 39 last month, will be the youngest person to become NSW Premier.
Perrottet has been a strong advocate of privatisation once describing the Coalition's asset recycling strategy as "the golden key that unlocked the door of opportunity for NSW". As Treasurer, he has overseen several major deals including the privatisation of the state's land titles registry and the long-term lease of the giant WestConnex motorway.
Before politics Perrottet was a solicitor, specialising in banking restructuring and insolvency law.
The "can do" man
Once described by then-racing boss Peter V'Landys as a "can do" man, Stuart Ayres is another contender vying to be the 46th Premier of NSW.
It was 2018 when Ayres emerged as the ideas man behind the controversial projection of The Everest horse race barrier draw on the iconic sails of the Sydney Opera House. The plan attracted widespread community outcry. Racing NSW, however, was thrilled.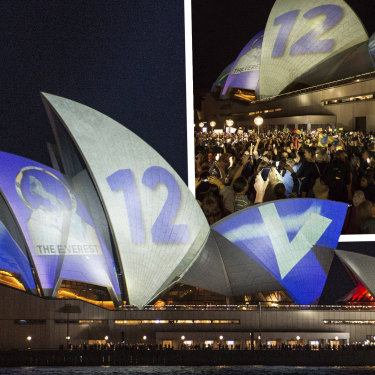 "If they had to give it to someone in the government … he's a 'can do' man," V'landys said at the time.
This year marks 11 years as a member of NSW Parliament for Ayres who took the historically safe Labor seat of Penrith on a 25.7 point swing at the 2010 election. It was then the largest swing against a sitting government in the state's history.
But his grip on the electorate has slipped. It is now one of the most at-risk seats ahead of the 2023 election, on a wafer-thin margin of 0.4 per cent. Retaining the seat is critical to the Coalition's hopes of maintaining power.
Now the Minister for Western Sydney, Jobs, Investment and Tourism, Ayres has also served in portfolios such as Fair Trading and Sport, the latter he is well known for seeking to reclaim.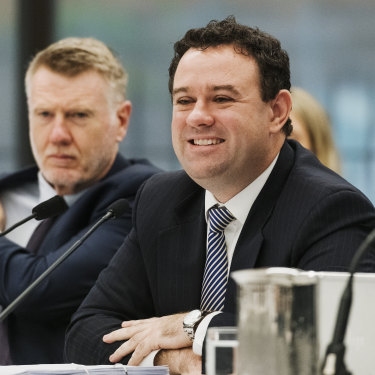 He was a surprise pick for police minister in 2014 after Mike Gallacher was forced to resign from the role when he was named in an ICAC investigation.
Then aged 34, Mr Ayres was in the job less than a year when lone gunman Man Haron Monis held 10 customers and eight employees of the Lindt Cafe hostage during the Sydney siege.
Ayres has close links to the racing industry and owns a stake in a number of racehorses. He is also an avid supporter of the Penrith Panthers NRL club and is known to wear his beloved team colours when in Parliament.
Among his close allies, he counts the politically powerful Sydney Cricket and Sports Ground Trust, which includes broadcaster Alan Jones, former premier Barry O'Farrell and businessman Tony Shepherd as trustees.
Ayres is a moderate faction heavyweight. He is well-liked across the Liberal party room and considered a strong campaigner with deep connections in Sydney's business clique.
He is the partner of the Minister for Foreign Affairs Marise Payne, who is a factional powerbroker in western Sydney.
Ayres came under intense scrutiny last year after it emerged he intervened in a sporting grants program as sports minister. The program awarded the bulk of a $33.4 million funding pool to projects in Liberal electorates in the lead up to the 2019 state election.
Ayres was also the cheerleader of the Berejiklian government's ill-fated $2.5 billion stadium redevelopment plan.
During the pandemic, he has been the minister responsible for hotel quarantine and will soon oversee the roll-out of home quarantine when international borders reopen.
With his seat hanging by a lean margin, some argue a promotion to the top job would give the critical western Sydney seat the boost it needs. Others say it could leave him unable to give the electorate the attention it needs from a local member.
The outsider
Transport Minister Andrew Constance's political career is at a crossroads.
The 47-year-old is faced with the outside chance of becoming the premier or soon nominating for the marginal federal seat of Gilmour ahead of the next election.
While Perrottet and Stokes remain the early favourites to succeed Berejiklian, some partyroom colleagues view Constance's parliamentary experience and political nous as serious assets ahead of the 2023 election.
Constance grew up in Canberra, spending time on his family's Berridale farm and later worked in public relations before entering politics.
Loading
The former young Liberal president arrived at Macquarie Street in March 2003, when he was still in his 20s – the same month as Berejiklian, who remained a close friend as the pair rose through the ranks.
After spending eight years in opposition, Constance was handed a ministerial portfolio after Barry O'Farrell led the NSW Coalition to victory in 2011. He has gone on to serve as treasurer as well as industrial relations, and finance minister.
The South Coast Liberal cited environmental protection and alternative energy in his first speech to Parliament in 2003, but it was the Black Summer bushfires that galvanised Constance's beliefs for government action on climate change.
He spent New Year's Eve defending his property from the fires, which destroyed dozens of nearby homes in Malua Bay and its surrounds.
Constance shot to national attention when he delivered a scathing assessment of the Prime Minister's leadership during the crisis, saying Scott Morrison had received "the welcome he probably deserved" when Cobargo locals heckled him after he arrived to survey the damage.
He has since spoken publicly about the toll the bushfires have taken on his own mental health, and has pursued a plethora of green policies after the disaster.
Constance's career was in the balance for several weeks in mid-2020 after he threw his hat in the ring to contest the federal seat of Eden-Monaro, which Deputy Premier John Barilaro was also eyeing.
Constance pulled out of the race before it began, but his relationship with Barilaro has never recovered. He was also punished by the Premier, who took a key parliamentary role off him.
He has since worked to regain Ms Berejiklian's trust, and was just months ago added to the state's crisis cabinet.
Constance now finds himself thrust into a contest for the state's next premier while considering yet another tilt at federal politics ahead of the 2022 election.
The Morning Edition newsletter is our guide to the day's most important and interesting stories, analysis and insights. Sign up here.
Source link