Mr Temby left it for parliament to decide whether Mr Greiner should continue as premier. In June 1992 three independents Clover Moore, Peter Macdonald and John Hatton sealed his fate by threatening a vote of no-confidence in the government if he did not step down. They reminded the premier that it was he who had declared that the ICAC Act must apply to anyone in public office, with "no exceptions and no exemptions".
The Court of Appeal, in a 2-1 vote, overturned Mr Temby's findings.
In 2014, the ICAC's Operation Credo revealed how a cabinet minute allegedly doctored by Labor ministers Tony Kelly and Joe Tripodi almost resulted in a billion-dollar windfall to Australian Water Holdings, a company with links to the family of Eddie Obeid.
While the DPP is still deciding on whether this political potboiler will result in criminal charges against the former Labor officials, it was Liberal premier Barry O'Farrell who inadvertently lost his premiership.
The commission's forensic accountants found an American Express payment of $2978 with a reconciliation that read "Gift to Barry O'Farrell and wife" in the water company's accounts. Further inquiries revealed it was a $3000 bottle of Penfold's Grange Hermitage which was delivered to Mr O'Farrell's home not long after he'd become premier in March 2011.
The sender, Nick Di Girolamo, was trying to get the newly elected Liberal government to grant his water infrastructure company a billion-dollar public-private partnership. Mr Di Girolomo was later appointed to the State Water Corporation.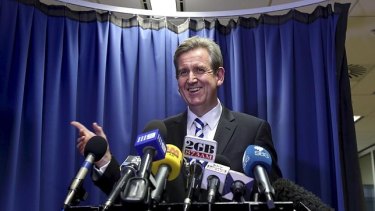 When Mr O'Farrell was questioned about the bottle of Grange, he was adamant that he would have remembered it, "particularly one that was of my birth year," he said.
After leaving the witness box that day, the premier repeated all his denials before a packed media conference, providing the press with all the grabs they needed of Mr O'Farrell staking his premiership on the bottle of wine or lack thereof.
The following morning when Mr Di Girolamo produced a handwritten note from the premier thanking him for the "wonderful wine" and noting that "1959 was a good year." His position as premier had become untenable. It wasn't because of the ICAC, it was because of the brutal reality of politics.
The Morning Edition newsletter is our guide to the day's most important and interesting stories, analysis and insights. Sign up here.
Source link