Mr Harrold took the matter to the NSW Valuer General's office, receiving an initial valuation of $6.7 million, which was then halved to less than $3.4 million.
Sydney Helicopters has lodged proceedings in the NSW Land and Environment Court disputing the compensation offer, with Slater and Gordon lawyer Adrian McMillan, who is representing Mr Harrold, saying neither he nor his colleagues had seen a determination by the Valuer General's office vary so significantly.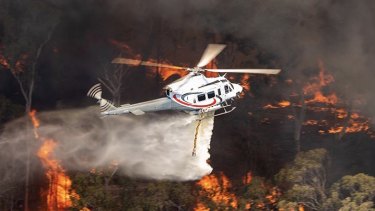 "The result for our client is a grave injustice. Given his significant contribution to fire and emergency services in NSW, the harm caused to his business leads to risk for all residents of NSW," Mr McMillan said.
The Valuer General's office said in a statement it did not comment on individual determinations.
"It is common for determinations by the Valuer General to vary from the amount claimed by a dispossessed party," a spokesman said, adding there was an established appeal process.
However, a Sydney Metro spokeswoman said officials had ongoing contact with the business, meeting in person on at least 11 occasions and finding a "suitable alternative site", after engagement with an aviation specialist, and also supported Sydney Helicopters' request to extend their use of the site.
"Despite an extensive negotiation period over 16 months, Sydney Metro was unable to reach a commercial agreement with Sydney Helicopters and the matter was referred to the NSW Valuer General," the spokeswoman said, adding the Land Acquisition (Just Terms Compensation) Act was followed.
According to the spokeswoman, consultant fees assisting the business in its search for another site were also covered.
Loading
Mr Harrold said the aviation consultant never met with him and he had paid far more in consultant and legal fees than he had seen in return.
Labor MLC Daniel Mookhey, who is involved in the upper house inquiry into the land acquisitions, said: "Businesses who fight bushfires shouldn't face life or death battles with bureaucrats as well."
"The law has failed Sydney Helicopters. It will fail even more businesses unless the government steps in and fixes the state's broken acquisition laws," he said.
The Morning Edition newsletter is our guide to the day's most important and interesting stories, analysis and insights. Sign up here.
Source link