"To me, that seems overly restrictive. Having a coffee cart or a community concert at this beautiful park by the water's edge seems reasonable to me, given that's what many other parks do," he said.
Loading
"Callan Park's heritage buildings are crumbling and largely inaccessible. A long-term community, restaurant or arts tenant could breathe new life into them, meaning the public would actually be able to enjoy them for years to come. Our legislation will provide the structure to enable a massive expansion of parks over [the] coming years."
Under the changes, any longer leases for Kirkbride and the two other heritage buildings would need the Planning Minister's approval. The maximum lease length of 10 years would remain for the other buildings at Callan Park.
The government said a longer lease for the three critical heritage buildings would "encourage a tenant to significantly invest" in their repair, the cost of which is estimated to be in the hundreds of millions of dollars.
Friends of Callan Park president Hall Greenland said he feared the draft exposure bill would result in an "open slather" for commercial interests at the expense of mental health and social welfare organisations.
"It guts the protection that Callan Park has enjoyed for the last 20 years," he said. "This is a small heritage park in the centre of Sydney where open space is scarce – it should not be exploited commercially."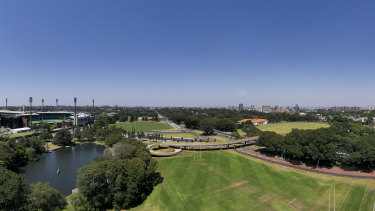 The draft bill has come under fire from Mr Greenwich, the Sydney MP who argues it will clear the way for parts of Centennial Park's former showgrounds site to be permanently privatised through a deal behind closed doors.
In 2019, a consortium that included retail businessman Gerry Harvey made an unsolicited proposal for a $1.2 billion redevelopment of the Entertainment Quarter at Moore Park with buildings up to 20 storeys.
Carsingha Investments has been pushing for a new 99-year lease, which has sparked concerns from Mr Greenwich and Labor MPs including the member for Heffron, Ron Hoenig.
Loading
Labor planning spokesman Paul Scully said he would be judging the draft bill based on its protections and curbs on excessive commercialisation of parklands.
The draft exposure bill follows the release in May of a white paper on Greater Sydney Parklands, which was set up as an overarching agency last July through administrative arrangements to oversee Centennial Park and Moore Park, Callan Park, Parramatta Park, Western Sydney Parkland and Fernhill Estate.
The Morning Edition newsletter is our guide to the day's most important and interesting stories, analysis and insights. Sign up here.
Source link