When Sydney locked down during the COVID-19 pandemic last year, Kate Young's 40th birthday trip to New Orleans was cancelled and her 22-year career in hospitality came to an abrupt end. The changes in her life forced her to ponder some uncomfortable truths that were stowed away in a pre-pandemic world.
"[It] really made me rethink and evaluate things, where we were in our lives, our jobs and looking at health," says Ms Young, from Leichhardt. "I think my brother at the time was having a few of those same questions. We're probably not the most active people, but we really have tried to change that aspect of our lives."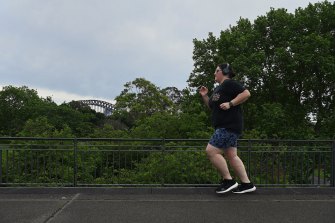 Along with her brother, Ms Young signed up for the 2020 City2Surf – her first in 32 years – as a way to keep motivated and feel the "gratification" of finishing. When the pandemic restricted public gatherings, the main event was cancelled but the race proceeded virtually, with participants running a 14km course in their own neighbourhood and uploading their results via the City2Surf app.
This year, the Delta variant has cruelled hopes of holding the world's biggest fun run on its traditional CBD to Bondi Beach route. But organisers have resurrected the virtual event, and Chris Jarvis, the regional director of the IRONMAN Group, says many of last year's participants have enrolled again.
"We're on track to have strong support for the event again this year," he said. "At this stage about two-thirds of runners are from NSW, and we're thrilled to also have runners from Great Britain, New Zealand, the US and 10 other countries."
Runners can compete any time between October 17 and 24, and are encouraged to raise funds for charity ($5 from each entry will go to the event's charity partners). The current public health restrictions limiting people to their local government area or 5km from home for exercise and recreation will be removed on October 11.
Since finishing last year's City2Surf, Ms Young has turned running into a constant in her life. "[It] has been a nice escape during the daytime, to get out and step away from my desk and shut off," she says.
After a long lockdown, Ms Young hopes she can reunite with her brother for this year's race. "It'll be the first time I'll see him in a couple of months, so it'll be a nice thing to do together."
The Morning Edition newsletter is our guide to the day's most important and interesting stories, analysis and insights. Sign up here.
Source link