For most children, the list of what they're looking forward to when school returns includes sitting next to their best friends in class again, greeting their teachers in person each morning and playing a proper game of sport over lunchtime.
But for 14-year-old Jorja Suga there's one more thing: getting access to her school's 3D printer so she can finally hold in her hands the prototype for the invention she's been working on all lockdown.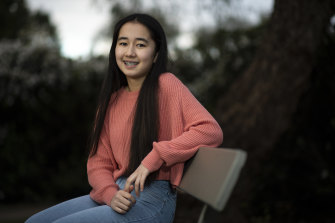 The year 9 student and budding inventor from Liverpool has used the past three months under some of the city's toughest lockdown conditions to design a needle-free alternative to the EpiPen for people who suffer from anaphylaxis.
It all started as part of a school project before lockdown. "I just looked around and tried to see what was needed in the world and what wasn't really available. I also wanted to look more into biology and do something related to the human body," she said.
When remote learning began, she had extra time on her hands. "I get through my work a lot faster in lockdown, so I have more time to work on that sort of thing," Jorja said.
She looked into anaphylaxis as part of her early research, and read studies showing that people's fear of needles could deter them from issuing a life-saving injection to someone else. She also discovered there can be a high risk of needle-related injuries in children who might be having a fit and moving around during the injection.
So she came up with a way to give the treatment without a needle. "It is called the EpinJect," Jorja said. "It is a needle-free epinephrine injector which uses technologies that are available now in a different way."
There are typically three ways to inject without a needle: via laser, a high pressure cylinder of gas, or a tightly compressed spring. Jorja chose the latter for her design. "It is compressed and then, when you press the button, it expands and, because it is so compressed, the pressure is enough to break through the skin. It delivers the adrenalin directly into the bloodstream, so it can treat the anaphylactic reaction," she said.
"It looks like a normal EpiPen, which is a thick pen, and you put that against the thigh [like you would] normally, and press the button. But it does the injection without [a] needle."
Source link