NSW has recorded another 667 new COVID-19 infections, while another 10 people died yesterday, NSW Health Minister Brad Hazzard has confirmed.
He said the numbers have shown "quite a dramatic drop in the last three weeks", comparing today to 1599 cases three weeks ago.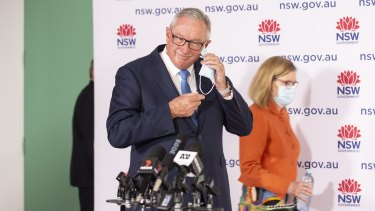 There were 88,210 COVID tests to 8pm last night. There are now 981 infected patients in hospital, with 195 of those in intensive care units. Of that 195, 140 were not vaccinated while 41 had received one dose, and 14 had both doses. There are 93 people on ventilators.
Mr Hazzard issued a plea for NSW residents watching the NRL grand final on Sunday afternoon to "please don't let the side down".
Mr Hazzard said it was "incredible" to have two city teams in the grand final this year, which is being played in Brisbane. But he's pleading with households not to overdo the celebrations.
"Can I also say to their supporters, please be careful. There are limits on the numbers of people who can currently gather together, you shouldn't be having people at home.
"Your home remains one of the most dangerous places to be in terms of transmission of the virus. And we need to make sure that we all enjoy the game but we don't have a super-spreader event.
Mr Hazzard said the numbers could easily rise again "if we ignore the rules and ignore the guidelines that our public health team have given us to keep us safe".
Source link