Veteran sergeants stood solidly, their faces moulded by years of routine investigations; of looking on the seamy side of life and death and of typing out reports late at night.
There were young constables with trendy sideburns and flat stomachs.
Finally there were the ordinary people who had come to stand silently and watch.
Outside the red brick church wreaths were piled high in a drizzling bank of blossom.
Inside the austere building sprays of red carnations laid on the coffins made the only splash of colour.
The Police Commissioner, Mr Norman Allan, read the lesson … "They shall hunger no more, neither thirst any more; neither shall the sun light on them, nor any heat."
Then the Bishop Coadjutor of Sydney, the Right Rev F. Hulme-Moir, read Commissioner Allan's tributes to the murdered men.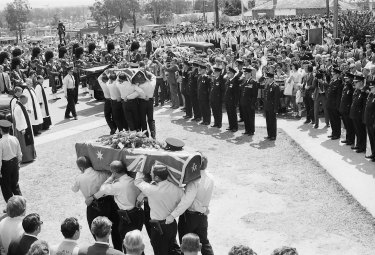 "They gave their lives in the course of their duties on behalf of the law abiding people of this State and in the name of law and order…
"We salute their courage and revere their memory and we mourn their tragic loss — a loss that the force can ill afford.
"We hope their deaths have alerted us to the violence that is in our midst."
In his address to the packed congregation, Bishop Hulme-Moir, too, referred to violence in contemporary society.
"We must recognise that we live in a tough world, a world of violence and viciousness where sometimes we can see moral anarchy," he said.
"This means that law and order can be sustained at times only at great cost."
Bishop Hulme-Moir said of the police: "They are the front-line troops against the anarchy of these days.
Loading
"Today in this church we should recognise the obligations we are under to those who daily protect us —those who jeopardise their lives that you and I may live in peace."
The blue-shirted police choir sang The Lord's Prayer.
The people sang Psalm 23 ("The Lord is my shepherd . . ."), then followed the coffins out into the sunshine of Flushcombe Road.
From the SMH, October 1, 1971: Police say that Ronald Clark, 30, shot his brother Warren, 22, dead in a house in Mimosa Avenue, Toongabbie, then murdered Sergeant Second Class William Riley, 50, and Senior Constable Maurice McDiarmid, 39, who went to investigate. They say he fled in a car and after a chase was shot dead by a policeman at Hillview near Liverpool.
Source link