The Liberal Party has a man problem. It's always had a man problem, both nationally and locally.
Not one single woman's name has been mentioned as a possible successor in the aftermath of Gladys Berejiklian's resignation. Not the premier, not the deputy, not the treasurer. Instead, it's blokes akimbo: Dominic Perrottet, Rob Stokes, Stuart Ayres, Matt Kean. In 2021, how is that possible? It's just as bad in the Nationals now John Barilaro has gone – the women with leadership experience, Sarah Mitchell, Bronnie Taylor, are both in the upper house, where capable women are always sent to assuage their ambitions. You can't ever be premier in the upper house. At least Melinda Pavey has put up her hand.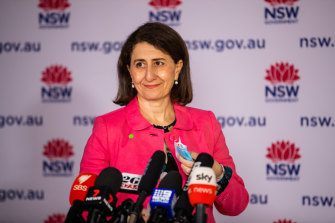 The Liberals resist quotas with the force of a thousand kelvins. The market will make women if that's what the market needs. Women, they would say, don't need a hand out, but the Labor experience shows quotas work. Without quotas, the remaining solution is the sisterhood, for women to pull other women up behind them. In Berejiklian's time, that never happened. There never was a hand up. It is true she invested time as patron of the Women's Council and there are indeed lovely photos of her, girlboss moments, surrounded by women aspiring to get elected. Maybe those women thought the mere existence of a woman premier would be enough, a sharp break with the monotonous male culture. They were all distracted and delighted by the surprise of an actual woman premier leading a conservative government in NSW. Remember she received hundreds and hundreds of messages of encouragement when news broke she would replace Mike Baird back in 2017.
The general tenor of those messages? "Your time is now. You go, girl."
Now she's gone but her girlboss time did not include other women, an unfortunate failing of the girlboss movement. Once again, a woman in charge made no change. When it came to the heavy hitting positions of power, Berejiklian didn't bring other women with her. Promoting women was not a priority. She had five other women in her first ministry – and none in the inner circle. In her second ministry, just four women, until the arrival this year of Natalie Ward. Liberal women say Ward has leadership potential but would have to move from the upper house to have a shot at any of the top jobs.
Faced with another all-male revue, NSW Liberal women are not pleased. For the past three days, phones have run hot – how to get more women members, how to get more women in the ministry, how to get more women in cabinet. They are lobbying furiously, but it's a pipeline problem, a timeline problem. They've been working away, some for years, and this latest upheaval has come earlier than anyone expected.
Last year, the NSW Liberal Party's state executive decided to bite the bullet, believe in women. After all, NSW had a female premier and the party had survived, even thrived. Until last Friday, the sky had not fallen in. In a surprise move for the Liberals, the NSW state executive then confirmed gender targets for the upcoming local government elections and reaffirmed those targets in 2021 – 40 per cent women for winnable positions on council and 40 per cent in unwinnable positions, which at least gives those women some experience at running as candidates.
Targets are not as decisive as quotas but at least the party now has a concrete way to deal with its dire representation problem. At state and federal level, there are two men of merit for every one woman of merit, yet those women of merit rarely make it into cabinet. In the Liberal Party, men don't respond to boundaries, particularly when it comes to improving gender equality, carrots not sticks, more a process of "negotiation and persuasion", says Mary-Lou Jarvis, the female vice-president of NSW state executive. Jarvis genuinely believes the men in the party are finally on board.
Source link