David Gonski, the businessman and university chancellor who designed Australia's school funding equity framework, has defended incoming Premier Dominic Perrottet against accusations he is too religiously conservative for the top job.
Mr Gonski said he had worked with Mr Perrottet across the school, university and business sectors and had never seen him prejudge an issue. "I have not seen anything but an open and intelligent mind," he said.
"I have definitely not seen any of this negativism that people seem to attribute to him. In the dealings I've had with him, quite the contrary. I think he savours different people's ideas."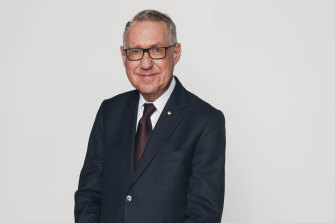 Mr Perrottet is a devout Catholic from the traditionalist wing of a broad church, concerning some who fear his decisions will be influenced by his faith.
He attended and his family remains associated with ParEd schools – which are linked to Opus Dei, a conservative prelature that teaches the importance of finding God in everyday life – raising concerns among others within the sector that he will give preferential treatment to Catholic schools.
However, Mr Gonski said a person's own education and educational choices for their children did not prevent them from understanding the importance and benefits of other types of education.
"I feel that people who assume that because you went to a particular school it will prejudice your thinking are wrong," he said. "And they are actually being prejudiced.
"I went to an independent school, Sydney Grammar, I wrote a report on government schools, and I was totally convinced that government schools needed more money, more improvement. I was in no way prejudiced by the school I went to."
Source link