Despite insisting the first two searches were comprehensive, Superintendent Laksa said a third was deemed necessary after speaking with the coroner.
"In consultation with the coroner through the crown solicitors … it was raised that certain areas in the river may still require another search, so we spoke with the crown solicitors and the coroner and agreed to conduct another search," he said.
Superintendent Laksa admitted that communications with Mr Copeland's family "could always be better", after they weren't invited to a media conference announcing the latest search.
"We had two meetings yesterday and not one of them notified us," Ms Duncan said. "You know how we got told? Media rang us and told us … at six o'clock this morning.
Mr Copeland's family has called for the events leading to his disappearance to be labelled as a pursuit so if he isn't found alive it will be investigated as a death in custody.
An independent police-run investigation into his disappearance, run by the Oxley Police District, is underway and a report will be provided to the coroner.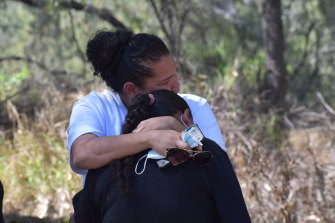 When asked by reporters what the police account of what happened the night Mr Copeland disappeared was, Superintendent Laksa declined to comment and said it was part of the independent investigation.
Ms Duncan said her family was desperate to see the body camera footage from the night Gordon went missing.
"We've asked for bodycam footage from the start and we still haven't received it … it would uncover the truth that led to Gordon's disappearance," she said.
Loading
Superintendent Laksa said it was a matter for the coroner.
"A brief of evidence has been provided to the coroner in relation to this matter and, to be honest, I haven't viewed the footage myself, I haven't viewed the statements myself, I haven't interviewed the police involved on the night myself, again that's all for an independent investigation," he said.
The Coroner's Office was contacted for comment.
Source link