Mr Perrottet also confirmed he would scrap the 11am press conference, a hallmark of his predecessor Gladys Berejiklian's pandemic strategy. Instead, COVID-19 numbers will be released at 9am from next week.
"I'll make the decisions in relation to addressing my very good friends in the press at the time that I think is most appropriate," he said.
"I know what I will seek to do is provide the health numbers earlier in the morning from next week."
Mr Perrottet shot down any hopes that the scheduled reopening on October 11 would be brought forward to this weekend, insisting that the current schedule maintained the incentive to seek a jab.
He said the road map and any changes to be made would ensure high levels of business confidence, critical to the state's recovery.
"We really want businesses, as we head into the summer months, to open up our state, to invest," he said.
"And in order to do that they need to have confidence. I think what you'll see in the economic recovery plan are key measures, focused on driving business confidence."
Mr Perrottet also doubled down on his plans to pursue GST reform, despite the idea being met with hostility from his West Australian counterpart Mark McGowan.
"What I won't accept is Western Australia, who in the height of the mining boom wasted their surpluses…and then come crying poor to the federal government for a bailout," Mr Perrottet said.
Mr Perrottet also announced an updated cabinet on Wednesday, with Matt Kean promoted to Treasurer and Rob Stokes set to take the role of Transport Minister. The Premier flagged a wholesale cabinet reshuffle later this year.
Mr Toole was elected leader of the junior Coalition partner on Wednesday at the first in-person party room meeting since the state's Delta lockdown began.
The member for Bathurst won a leadership ballot 15-3 after the snap resignation of John Barilaro on Monday, defeating his only opponent Water Minister and Oxley MP Melinda Pavey.
Mental Health Minister Bronnie Taylor was elected unopposed deputy leader of the party.
Mr Toole thanked Mr Barilaro for having been a "champion of the bush," while acknowledging he had a very different style to the former leader. He said the focus of the government needed to be on getting kids back to school and seeing businesses open their doors again.
"We're going to represent people right across the state. No matter where you live, we want to make sure that that investment remains strong and that we actually provide the services that you both need and deserve."
Former premier Gladys Berejiklian made her first public appearance since last Friday's shock resignation, attending her Willoughby electorate office to observe the floral and handmade tributes laid across the entrance to the building.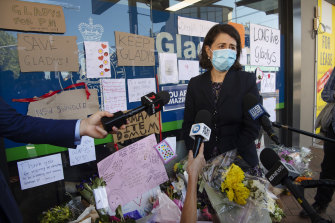 In brief remarks she threw her support behind Mr Perrottet, who she said would be an "outstanding leader", urging the people of NSW to support the new leadership as the state emerges from lockdown.
Source link