Sydney temperatures are set to plunge up to 14 degrees in just 30 minutes when a strong southerly change hits the city from 5pm on Thursday.
The Bureau of Meteorology has issued a severe weather alert for damaging winds affecting Sydney and the Illawarra region, warning gusts exceeding 90 km/hour are possible.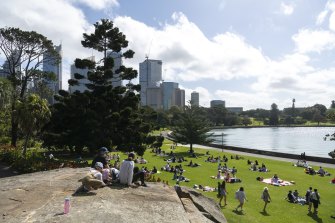 Weatherzone Meteorologist Joel Pippard said NSW's South Coast had already experienced "rapid temperature drops", with the mercury falling seven degrees in 10 minutes in Ulladulla earlier Thursday afternoon.
He said the temperature drop in Sydney could be even more dramatic when the southerly reaches the city due to warmer conditions.
All of Sydney experienced temperatures 30 degrees and higher on Thursday with gusty westerly winds keeping temperatures warm.
Mr Pippard said those temperatures should fall between 10 and 14 degrees within 30 minutes when the southerly change reaches Sydney between 5 and 5.30pm.
"The southerly change is associated with a cold front. When it gets around the corner of the southern NSW coast it helps [the change] get stronger because of the sea breeze effect – the difference between the temperatures of the water and the land," he said.
"That helps amplify that change so when it arrives about 5pm, when the land is at its hottest and the cool change is still just as cool, it creates a big temperature difference, a big increase in that wind strength, and causes a rapid temperature drop once it actually arrives."
The southerly change caused wind gusts of 94 km/hour at Kiama, on the Central Coast.
Source link