Sydney, we did it! Let's pat ourselves on our picnic-sunburned backs for what we've achieved in the past fifteen weeks. This lockdown has been tougher than getting tickets to Hamilton – which is now incredibly easy, by the way, if you're brave enough to sit in a theatre with strangers.
We're nowhere near COVID Zero, and may never have a doughnut day again. We certainly didn't nail social distancing, as we're now a city of secret speakeasies and smart arses who wear their masks on their chins in case they spot a police officer. But we've vaccinated ourselves to the point where a cautious reopening is not completely foolhardy – a fantastic achievement in just a few months.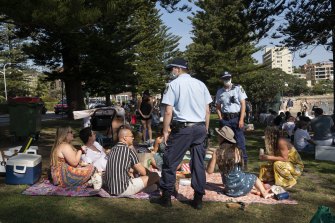 Admittedly, we diverted precious Pfizer jabs from elsewhere, and scavenged nearly-expired jabs from more organised countries. It seems very Sydney to have approached our vaccine rollout like a bin chicken going after abandoned chips.
But we'll soon be one of the most inoculated places on the planet, with more than 90 per cent of the eligible population double-dosed. This outbreak has reminded us that COVID is as inevitable as an André Rieu tour, and just as likely to target the elderly.
Lockdown was tough. I spent mine simultaneously wrangling a Frozen-loving three-year-old and recording a podcast that was constantly interrupted by booming renditions of "Let It Go". I feel shell-shocked, or Elsa-shocked. But there's no way we'd be in this enviable vaccination position without the lockdown.
Back in June, we were still fantasising that Gladys' contact tracing ninjas could snuff out any outbreak. In October, we know that she couldn't even fend off ICAC. Sydneysiders are bruised, bored, a great deal wiser, and stuffed with antibodies, ready for the trials ahead.
NSW is about to become Australia's first post-lockdown state – open and free, yet facing potentially disastrous pressure on our health system. But we now know that there are no realistic alternatives. Being like Queensland never seemed less appealing.
We need our minty-fresh new Premier to pick the right path between the agony of more restrictions and the nightmare of not enough, and it's hard to trust him when, despite five years as treasurer, we know less about Dominic Perrottet than we do about Nicki Minaj's cousin's friend.
Source link