Ms Dolly said the view of the city had changed since the first voyage, though she could not remember details of the ferry's 1980s interior as she was preoccupied with the storm.
"I don't remember what it looked like, I was too busy looking at the waves," she said.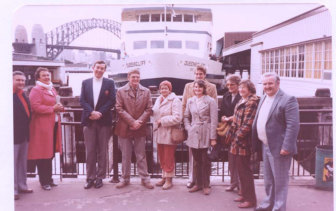 The Herald revealed in October the government's plan to scrap the four Freshwater class ferries, sparking a community backlash against the proposal that led to the state agreeing to keep two of the fleet.
More than 100 other passengers boarded the ferry for its last trip, many with placards and signs protesting its retirement.
Mr Hart said he was sad to see the Queenscliff retired when he believed it still had something to offer the harbour.
"There's many good reasons I think to keep them. I don't agree entirely that they should go," he said.
Since its maiden voyage, Transport for NSW estimates the Queenscliff has travelled close to 3 million kilometres between Manly and the city.
The two retiring Freshwater ferries, which can carry up to 1,150 passengers, will be replaced by three smaller, faster Emerald class vessels.
Transport for NSW chief operations officer Howard Collins said he expected the three new ferries to enter service in November, and acknowledged they were running late.
Loading
Mr Collins said the government was working with private ferry operator Transdev to understand why the three vessels were yet to enter service and cited the COVID-19 pandemic as one contributing factor.
"They're under trials at the moment. They are late, we are obviously working with Transdev to understand the reasons why they're late," he said.
"They've had various modifications."
Opposition transport spokeswoman Jo Haylen lamented the retirement of the Queenscliff and warned its scrapping could pose problems for summer services.
"The Queenscliff should not be mothballed by Rob Stokes. She has decades of service ahead of her, but she's being replaced by overseas made ferries that carry fewer passengers, are riddled with flaws, and will struggle to handle three-metre swells," Ms Haylen said.
Meanwhile, the first of the problem-plagued River class ferries entered service on Sydney Harbour on Wednesday morning, to much less fanfare.
The Ruby Langford Ginbi travelled between Circular Quay and Sydney Olympic Park for its first service, more than 18 months after the River class vessels were slated to arrive.
Our Breaking News Alert will notify you of significant breaking news when it happens. Get it here.
Source link