"In the continued absence of structural documentation, please be advised that within 48 hours, in order to eliminate the indeterminate structural safety risk to the occupants, I intend on notifying the NSW Fire Services and Canterbury-Bankstown Council," he wrote on May 27 last year.
Loading
In his final report completed on Sunday, the engineer said his concerns about the state of the building were "amplified due to key structural documentation withheld for 18 months, after court subpoenas and numerous requests for information went unanswered".
"Furthermore, building defects classified as secondary damage have been buried (not declared)," he wrote.
The engineer did not state in the documents who he believed had withheld information. He did not respond to calls from the Herald on Thursday, and the newly appointed strata manager for the building also did not respond to questions.
The owners of units in the Vicinity complex launched legal action against Toplace and a related company in the NSW Supreme Court in late 2018 over alleged defects.
Toplace said it had provided documents to lawyers for the owner's corporation "as and when they have been requested", which included responding to a request for documents by Rothshire.
The developer has rejected the findings of the structural engineer hired by the owners, saying its experts had found that "assumptions and information" in his report were "plainly wrong" and had resulted in "incorrect conclusions".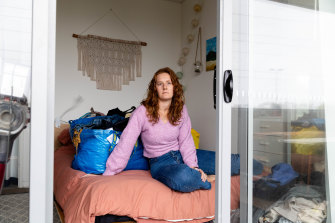 Unit owner Corrie Ford said she still felt unsafe living in the 10-storey building but was relieved that the government was taking their concerns seriously.
Ms Ford said Toplace needed to provide evidence to support its rejection of the structural engineer's report "otherwise it's empty words".
Mary Yang, who bought a one-bedroom apartment in the building two years ago, said she was anxious about what the outcome would be. "There is a degree of confusion about the whole thing. I just feel like the government should have taken a more firm stand," she said.
Labor MLC Courtney Houssos said the revelations of yet another tower riddled with serious structural defects showed the scale of the problem in NSW.
"Owners and residents at Vicinity Apartments are today fearing being locked out of their homes for months on end. The NSW government must ensure there are the highest standards of safety for apartment residents," she said.
The concerns about the Canterbury complex come as a report by the University of NSW has revealed it is almost impossible for purchasers to predict whether their new apartment will have building defects.
The report by UNSW's Futures Research Centre found poor business culture, poor capacity to carry out construction work and poor regulatory oversight in parts of the building industry have made buying an apartment a lottery for many purchasers in Sydney.
The Morning Edition newsletter is our guide to the day's most important and interesting stories, analysis and insights. Sign up here.
Source link