When secondary students complain that schools are like prisons, they aren't entirely wrong. Most high schools have an occupant density that exceeds the typical workplace, comparable to commercial airplanes and – yes – prisons. But while classrooms may be populated like an economy class cabin, most school spaces aren't equipped with the same ventilation systems found on a standard Qantas flight.
Issues of air circulation and crowding loom large as students return to school with COVID-19 lurking in the background. But there is one way to find more breathing room for our students. We just need to think outside the box. Or, in this case, the classroom.
One year ago, schools in the US faced the prospect of students returning at a time when COVID-19 cases were surging and vaccines weren't yet available. To create learning environments that were safe and socially distanced, many schools pivoted to outdoor learning for large portions of the day. For some this meant clustering picnic tables together, building shade structures, adding trees, gardens, even yoga circles and mountain bike trails.
The impact was tangible. Parents reported students coming home happy and tired. Teachers acknowledged students were more engaged. With more wriggle room, classroom conflicts seemed to recede. When US students returned to school this past September, what were set up as temporary pilot programs at many schools are now being incorporated as permanent structures.
Such impacts are not surprising. Studies have shown how greening school grounds helps students feel a greater sense of belonging among their peers, keeps them more physically active, strengthens their social skills and reduces classroom tensions. Even the view of green space from classroom windows has been correlated with reducing the stress levels of students and improving their academic performance.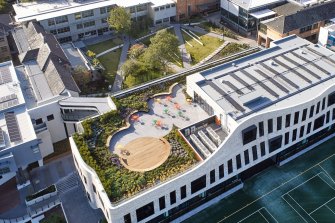 Prior to COVID-19, high school outdoor spaces have rarely been viewed as a tool to improve the wellbeing of school communities. This is ironic, given the schoolyard provides students with a daily dose of green space. It's also a place where they spend heaps of time. Australian students spend over 10,000 hours during their adolescence in schools, well above the OECD average of 7540 hours. Such environments have the potential to be inviting and engaging spaces that improve student mental health and learning outcomes. Because let's face it: our teenagers need it.
Issues of anxiety, stress and depression continue to escalate among adolescents at alarming rates. COVID-19 has only amplified these impacts. Findings from headspace's 2020 National Youth Mental Health Survey of more than 1000 Australians aged 12-25 found that one in two were unable to carry out their daily activities due to a decline in wellbeing. One third of young Australians reported high or very high levels of psychological distress – treble what they were in 2007. Most recently, data released by the Australian National University in September found that teens aged 15 to 18 were suffering the worst mental health effects of anyone during the pandemic.
But to create better schoolyard spaces, we need better tools to document the evidence of their impact. Current metrics around the performance of school facilities rely on operation costs, building aesthetics and sustainable construction practices. Rarely do facility rating schemes and building performance indicators give detailed consideration to external school spaces. Viewing images of exemplary schools on the websites of the Australian Institute of Architects or the Green Building Council, you quickly realise that such projects are more celebrated for their buildings than their shade trees.
Source link