A man has died after his car was trapped under a bus following a crash in Sydney's west.
Emergency services were called to the intersection of Warren Road and Liverpool Transitway, in Woodpark, near to Smithfield, about 11.30am on Friday.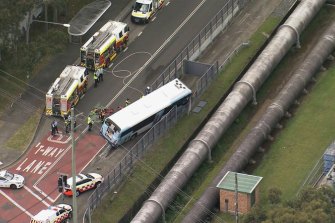 Four ambulances and a specialist medical team attended the crash involving a black hatchback and State Transit bus. The driver and sole occupant of the car died at the scene.
Vision from the scene showed the crash caused both the car and bus to go over a concrete barrier and leave the Transitway.
Police said he was aged in his 20s and is yet to be formally identified.
The bus driver, a 58-year-old woman, was not injured and was taken to hospital for mandatory drug and alcohol tests.
Police said there were up to 10 passengers on the bus and none were injured.
A crime scene was established and an investigation by specialist crash investigators is under way.
Source link