When Sydney locked down in June, Grant Doyle, along with his brother Craig and niece Georgia, signed up to the Sydney Children's Hospital team for the Sun-Herald City2Surf.
For Grant and his 12-year-old son Kobi, the Children's Hospital at Westmead holds a special significance. "That hospital is the only reason that Kobi is alive," Grant says.
Despite a straightforward pregnancy, Kobi turned blue shortly after birth. He spent the first year of his life at Westmead's Grace Centre for Newborn Intensive Care after multiple MRIs, CT scans and X-rays failed to clarify his respiratory issues.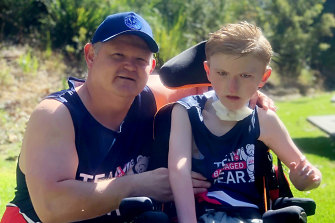 After 10 months of intensive care, Kobi underwent a permanent tracheostomy, which had a predicted 5 per cent success rate. Today, he lives happily on the Central Coast with his father, uncle and cousin, who together have raised $2500 during the City2Surf.
"We thought we should do something for a good cause and the place that has helped Kobi so much," Grant says. "Medical equipment in general, medical supplies for kids like Kobi, the price is just astronomical."
This year's "virtual" City2Surf has already raised more than $450,000, with donations to be kept open for four more weeks after the event finishes on Sunday. Donations are set to rival the $600,000 figure raised in last year's run, which was the fun run's 50th anniversary.
Chris Jarvis, regional director of organiser The IRONMAN Group, said: "Our runners have treated the Virtual Run as they would the physical event, encouraging friends and family to support them through fundraising as they trained for the run and sharing the way."
As the world's largest fun run, the Sun-Herald City2Surf has raised more than $48 million since 2008. While COVID-19 restrictions have prevented the traditional race this year from the Sydney CBD to Bondi, participants in the "virtual" event have until the end of Sunday to run 14km in their chosen area, and then upload their race using the C2S VR app.
Helping lead the fundraising charge has been Kobi's 13-year-old cousin Georgia, who Grant says is "practically Kobi's nurse".
Source link