Loading
Yet – as ICAC would eventually reveal in October 2020 – Berejiklian's relationship with Maguire had continued well into 2018, when Berejiklian was premier, with some evidence of contact beyond that date. It fell, then, to Assistant Commissioner Ruth McColl to pose the killer question: had Berejiklian lied to Cruikshank?
The former staffer initially baulked at that term. McColl pressed her: was there any other description to use?
Probably not, a reluctant Cruickshank replied.
This must have been a devastating moment for Berejiklian. No closer professional relationship exists in politics than that between a senior politician and their chief of staff.
Berejiklian's lawyer, Sophie Callan, SC, did her best to soften the force of the exchange. Could Cruickshank have been mistaken? Was it possible she'd misunderstood the time frame Berejiklian had put to her on the phone that night?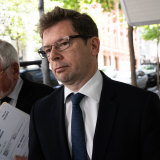 No, said Cruickshank. It was a "definite" recollection that Berejiklian had told her the relationship was in the past.
Had she known otherwise, she would have had a conversation about how the "optics" of the situation should be best managed, whether "relevant disclosures" had been made.
Cruickshank agreed with the two earlier witnesses – former staffers Brad Burden and Neil Harley – that they'd never seen evidence of Berejiklian treating Maguire or his electorate with any favouritism.
Harley, who had succeeded Cruickshank as chief in her office, told ICAC: "I do believe that the only person who can appropriately define what the relationship was, and what the relationship wasn't, is Ms Berejiklian."
Asked by Callan if the former premier had always made decisions in "principled fashion", Harley declared "always", adding: "I have never ever in my time in politics … known someone more fiercely committed to public service and serving the people of this state than Ms Berejiklian. Never."
That at least is one comfort Berejiklian can take away from Tuesday's evidence.
The Morning Edition newsletter is our guide to the day's most important and interesting stories, analysis and insights. Sign up here.
Source link